Coverdale history
Introduction
My name is Marion Moverley and I am a local and family historian and adult education tutor. I have been researching the history of Coverdale for many years and taught Local History Classes at the Middleham Key Centre. As part of a post graduate degree at Leeds University I studied the three parishes of Coverham, Middleham and East Witton. There are many fascinating stories behind the people who lived in this part of the Yorkshire Dales. The Parish Registers for Coverham and Horsehouse record 373 different surnames up to the year 1900, I cannot tell you about them all, but I hope that you will find something of interest in these pages.
If you have ancestors from Coverdale do email me, and join the Upper Dales Family History Group where you will find other researchers with ancestors from this part of the Yorkshire Dales. From time to time I will change the stories in this web site, I am still actively researching the history of Coverdale and will share new discoveries, so do visit these pages again.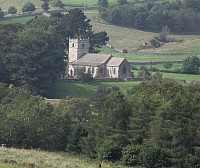 Holy Trinity Coverham
The history of Coverdale covers many topics, from the Premonstratensian Abbey , the mines and quarries, and the nearby racing stables. In these brief pages I will tell you about some of the families who lived in the scattered farms and hamlets from Coverhead down through Woodale and Bradley, Horsehouse, Arkleside, Gammersgill, West and East Scrafton, Caldbergh, Carlton, Melmerby, Agglethorpe and Coverham. Legend points to this place as the birthplace of Miles Coverdale, who was the first to publish the whole Bible in English in 1535, but this cannot be proved. He became the Bishop of Exeter.

The River Cover rises on the high moors which divide Coverdale from Wharfedale. Hunters Stone marks the beginning of Coverdale which has scattered hamlets and farms. There is no village called Coverham, just a Church and an Abbey. The tiny River Cover gathers strength as it passes first Coverhead, then Woodale, Braidley, Arkleside then Horsehouse. Here the dale widens slightly with Gammersgill on the north side of the river and West and East Scrafton and Swineside on the south side. High on the moor above Gammersgill is Fleensop, which once had collieries. The largest village is Carlton, followed by Melmerby, under the flank of Penhill, and almost opposite on the southern side of the dale, Caldbergh. Agglethorpe is a handful of farms just before you climb up to Middleham Moor. Coverham Church has no houses around it, except for the house on the site of Coverham Abbey, which is in private ownership.
The River Cover then continues eastward below Middleham and on to East Witton where it joins the River Ure .
Local families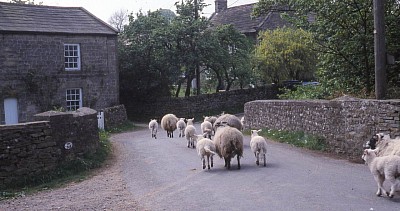 West Scrafton
A significant number of families in Coverdale remained in the same place for many generations. There were also families who moved in, stayed for a generation or two, then moved out, these were miners, quarrymen and race horse trainers, but the agricultural nature of the dales meant that many families never moved. Here are some surnames of Coverdale families
Buckle - In 1556 Henry Buckle of Agglethorpe left a will , and Leonard Buckyl of Agglethorpe left a will in 1563. Leonard Buckle and Lucas Metcalfe had been granted the site of St Simons in Coverdale by Henry VIII. Anthony Buckle left a will in 1869 leaving property in Carlton.

Butterfield - Godfrey Butterfield appeared at West Scrafton Manor Court in 1572 and the family hardly moved for the next three hundred years.

Constantine - The Constantine family had links with Wharfedale and the Craven district, and a John Constantine of Gammersgill was a witness to a Constantine marriage in Burnsall in 1654. He paid tax for two hearths in 1673 in Carlton Highdale. One member of the family was Henry Constantine, born in 1791 son of Henry, he died in 1870 and was a poet, the Bard of Coverdale.

Dawson - this family were well established by the early sixteenth century and left many interesting wills. They lived mostly in Melmerby, and continued there until the male line ran out. Ann Dawson married a Richard Duffield and their grand child rejoiced in the name of Roger Dawson Dawson-Duffield. He left a large amount of money to Coverham Church and became a Count. There was another family called Dawson who moved in to Coverdale, they were race horse trainers and came from Scotland.

The top end of Coverdale, known as Carlton Highdale, included the hamlets of Woodale, Braidley, Arkleside and Horsehouse and were homes to the Dixon family, Falshaw family and Forster or Foster - Thomas Foster petitioned the Abbot of Coverham in 1530 [along with many other Coverdale inhabitants] to provide a Brother to say the Mass at Horsehouse.

Geldart - This was a numerous and significant family in Coverdale, one branch were Quakers. Some of the Geldarts were Freeholders and part owners of the Manor of Carlton and lived in Elm Tree House in Carlton. Thomas Geldart died in 1894 aged 72 years having served over 30 years as Church Warden at Coverham.

Hammond - a numerous family, mostly farmers, who stayed put for many generations. There were 60 Hammond baptisms between 1700 - 1900, and most grooms did not travel far to find a bride. Thomas Hammond petitioned the Abbot of Coverham [along with many other Coverdale inhabitants] in 1530 to provide a Brother to say the Mass at Horsehouse

Handley - this family were in Coverdale in the sixteenth century and then never moved for the next four hundred years. They were shoemakers, quarrymen, joiners and farmers. A Rychard Handlay was on the petition to the Abbot of Coverham in 1530.

Harrison - this family did not move far to find their spouses. There were 106 Harrison baptisms between 1700 - 1900, predominantly farmers. A Miles Harrison was attacked in some enclosure riots at Little Scrafton in the 1500s, and a Simonde Harrison lived at Melmerby in 1565.

Horner - This was the most numerous of all the families in Coverdale. They were so prolific that it is difficult to untangle their complicated family trees. There were 243 Horner baptisms between 1700 - 1900 which is 4.69 % of the whole. The family also had close connections with Nidderdale, one generation married in Middlesmoor, and then next returned to Coverham to get married. The Horners were farmers, farm labourers, masons quarrymen and shoemakers.

Lobley - There were three members of the Lobley family on the petition to the Abbot of Coverham in 1530. There were also early Lobleys in East Witton.

Loftus / Lofthouse - an important family, with branches that did very well , and other branches who remained tied to the soil and were farmers and labourers. The Lofthouses were well established by the early 16th century, Edward Lofthouse and William Lofthouse both leased property at Swineside in Coverdale which had belonged to the Abbey in 1545. Edward Loftus of Swineside was the father of Adam Loftus who was born at Swineside in 1535 and became Archbishop of Armagh and founded Trinity College in Dublin. At the humbler end of the Loftus family tree by the early nineteenth century there were several branches who lived at Horsehouse who were Methodists and a Ralph Loftus of Sowerset was the leader of the Methodist Class for over 20 years.

Metcalfe - There were Metcalfes all over the Yorkshire Dales. The earliest one I have found in Coverdale so far was called Cuthbert and was on a document dated 1569

Pickard - this family used the christian name Bartholomew in every generation. The first Bartholomew came from Masham and married in Coverham in 1716. In 1899 a Bartholomew Pickard was buried aged 82 years

Render / Runder / Rinder - Thomas Rynder made a will in 1539 naming his daughters as Alison, Margaret and Jenet and his executor as George Render. The family lived for many generations at the lower end of Coverdale, around Melmerby, Agglethorpe, Birdridding and Caldbergh. For 32 years Thomas Render was the parish Clerk for Coverham. He died in 1861 age 76 years.

Rider / Ryder - This family was almost as numerous as the Horners, and lived at the top end of the Coverdale called Carlton Highdale. They distinguished themselves by using the names Parsival, Ottiwell and Ralph. Ottiwell Ryder was on the petition to the Abbot of Coverham in 1530. Some of the early Riders were involved in textiles and had links with Leeds. By the nineteenth century the Riders were farmers, labourers and coal miners, with one Ralph Rider a schoolteacher in 1820, but a labourer in 1822.

Spence - this family were typical and never moved. They used the names Peter and Bernard. Adam and Rychard Spens were on the petition of 1530, and a John and an Ottiwell were at West Scrafton Manor Court in 1572. By the early 19th century some of the Spence family were Methodists and they were masons, quarrymen, coal and slate miners and labourers

Topham - this family became notable in Middleham but their origins were in Coverdale and the family always returned to Coverham for their burials. They have some magnificent memorials in the churchyard. A James Topham of Horsehouse made a will in 1536 and named sons William, Henry, Christopher, Rauf, and Richard. There were variations of spelling, sometimes Toppam or Toppan.

Watson - this family were at Hindlethwaite by the 1550s and remained there for many generations, their family tree is complicated as every Watson father named his sons Edward, Thomas and Christopher, and there could be several of each name alive at the same time. One Christopher Watson lived at Tupgill in the 18th century, he held the important post of Coroner for the North Riding.

Yeoman - this family kept their identity by using the name Peter in every generation. A Peter Yeoman was baptised in 1708, one of the earliest entries in the surviving registers, and a Peter Yeoman was buried in 1890 aged 57 years. Elijah Yeoman was an early photographer, born in Coverdale in 1849, baptised at the Methodist Chapel in Horsehouse, he moved to Barnard Castle where he became a brilliant photographer and the Bowes Museum has a collection of his glass plates.

This is only a small selection of surnames that you will find in Coverdale, there are many, many more interesting families. Do contact me if you have Coverdale ancestors.
This window show the coats of arms of notable Coverdale famlies. Originally it was in the chancel at the east end of the church. The centre panel refers to Miles Coverdale who translated the Bible into English and says "Search The Scriptures". Above it are the arms of the See of Exeter, below the Bible are the arms of Coverham Abbey. There are eight other shields or arms, in the left panel from the top - that of Sir Geoffrey Scrope [pronounced Scroop], Topham, Nowell, Tomlinson : in the right panel from the top - Dearden, Dawson, Croft and Dawson-Duffield.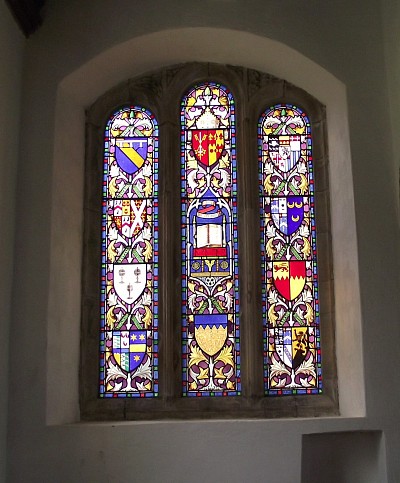 window in Coverham Church