What the dalesmen did
Coverdale is now an agricultural community, with some race horse training stables near to Middleham Moor, and the tourist attraction of Forbidden Corner at Tupgill. It had a wider variety of occupations in the past, with tradesmen and shopkeepers serving the local population, and quarries, mines and lime kilns.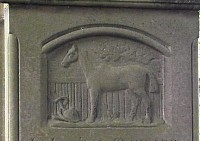 The parish of Coverham is right on the southern edge of Middleham Moor, a famous training ground for race horses, and several stables were established in the parish. There are many trainers and jockeys buried in Coverham Church, some very famous in their day. The censuses have long lists of very young stable boys living at the race horse stables. On the 20 June 1868 James Fieldhouse, aged 15 years, and another boy, were struck by lightening as they was riding out, James Fieldhouse was killed and is buried at Coverham. He worked for Thomas Dawson at Tupgill, the lightening also killed a horse, Rococo, who had won the Northumberland plate in 1866.

The earliest trainers in Coverham were James Hoyle who was at Ashgill in 1762, and Isaac Cape who was at Tupgill in 1762. John Mangle was a jockey for Isaac Cape and rode five St Leger winners. He then became a trainer and took over Ashgill, later moving to Breckongill. Other famous trainers followed, Watson Lonsdale, George Oates and James Croft.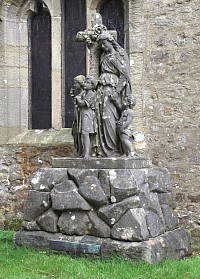 Dawson Memorial at Coverham
One of the most famous families was the Osborne family. The first John Osborne went to train at Ashgill in 1836, he died in 1865. He had been head man to the Duke of Leeds at his stables at Hornby Castle. He had several daughters who married jockeys, and several sons who trained horses, his son John Howe Osborne was born in 1833 and became a jockey in 1846, he was known as the Bank of England Jockey, your money was safe if you backed him.
Another famous family who trained race horses in Coverham was the Dawson family. This memorial is under the west window , which is also to their memory, at Coverham church. The Dawson brothers were the sons of a race horse trainer at Gullane in Scotland, Thomas and John Dawson took over the Mangles stables in 1830, then another brother, George came down from Scotland to train in Middleham.

Coverdale had stone quarries and both lead and coal mines. This letter is from Robert Petty to Christopher Topham, dated 20th February 1856 - Please sir, I understand that you wish us to work this Lead mine at Fleensop or otherwise give it up, I should not like to give it up yet, but it is not convenient to work it in winter as the Shaft is so very wet, we intend to try it again as soon as convenient, I understand that Robert Lofthouse told you that Alexander Mud wants to have the privelage of drawing their work up our colliery shaft but if you have any objections to it please sir drop me a note, Sir, I remain you humble servant Robert Petty.
He received a reply - Middleham 23rd February 1856, Mr Robt Petty , I duly received your Note of the 20th inst & in answer beg to say that I wish you to get on trying for Lead as soon as you can, it is no good to any person letting it remain in the ground, as to Alexander Mudd drawing his work up our shaft, if it be no detriment to the Colliery or to you in the working thereof, I have no objection; but he must pay an acknowledgement according to the value of the work he draws for so doing, & am yours, Christopher Topham

There was never any great quantity of either lead, coal or stone extracted in Coverdale, most was used locally, but there were attempts to get a railway through the dale. Although the plans were drawn up, it never happened.

The majority of Coverdale folk were sons and daughters of the soil, and worked on farms. The upland nature of the dales means that this was mostly pasturing cattle and sheep, with little arable land. But when Peter Dawson of Carlton made a will in 1569 he left unto every of my sisters barley and half a quarter of haver

Adam Dawson of Gammersgill made a will in 1584 and he dealt with wool and was owed 10 shillings by William Ryder of Gammersgill whereof I do allow him 4 shillings for the carriage of one packe of wool into Lancashire
There were some weavers in the dale. John Ryder of West Close was a weaver in 1692, Richard Iveson of Braidley was described as a glover in his will of 1702.
But the majority kept themselves by farming, often in a very small way. Francis Ryder of Horsehouse made sure that his wife would have some means to keep herself, when he made his will in 1591 he wrote - Also yt is my will and mynde that my wiffe Phyllice shall have two kyne founde as well in winter as in somer in and upon that Farmerynge at Gamerskaile now in the tenure and occupacion of my sonne Leonard , so his widow was allowed to keep two cows at the farm in Gammersgill. Francis Ryder also bequeathed some sheep - I give and bequeath unto Adam Lodge his sons and daughters every one of then one Lamme and to John Ryder my sonne his four daughters to every one of them one Lamme .....
Agriculture is still the chief occupation and source of income in Coverdale.