Churches and Chapels
The parish of Coverham is very long and narrow, and the parish Church of Holy Trinity Coverham is at the lower end, higher up at Horsehouse the church of St Botolph's was originally a Chapel of Ease within the same parish. As Coverham was in an isolated position the Church of the Good Shepherd was then built in the village of Carlton so that the parishioners did not have to walk to Coverham. St Botolph's at Horsehouse is now the only Anglican Church still open for worship. Holy Trinity is no longer used regularly.
Methodism had a very strong hold in Coverdale from the time of the Wesleys. The Methodists first began meeting in cottages and farms, one meeting was in my great great grandparent's cottage at Birdridding. Methodist chapels were then built in Melmerby, Carlton, West Scrafton and Horsehouse. The congregations have diminished and sadly many chapels are closing.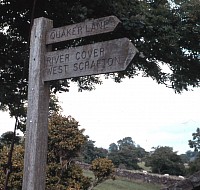 There is very little evidence now that Quakers met in Coverdale other than this sign post for Quaker Lane. There was a small, but fervent, Friends' Meeting in Coverdale at the end of the seventeenth century. The Sufferings of Early Quakers by Joseph Besse record those who were fined for attending meetings, or who had their goods confiscated in lieu of tithes which they refused to pay to the Anglican church, some were imprisoned. The Quakers in Coverdale included one branch of the Geldart family, Hammonds, Winns, I'ansons and Horners. A meeting was held at Stephen Winn's house in Melmerby on the 28th August 1670, he was fined £20. Richard Geldart and Stephen Winn were in the House of Correction at Richmond in 1679 for not going to the Anglican Church and not taking the sacrament. Richard Geldart was later in prison in York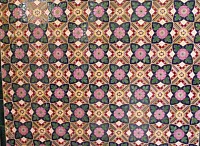 tiles in Holy Trinity Church Coverham
The church of Holy Trinity at Coverham that you see now is of Victorian design. Large parts of the church were taken down in the middle of the nineteenth century and rebuilt to the plan of Christopher George Wray, a London architect, but from a family in Bishopdale. Several pieces of stained glass were moved, an organ was installed, a gift from Mrs Bates of Tupgill, and some interesting ceramic majolica and Minton tiles used as a reredos at the east end of the chancel and the south aisle. The church was reconsecrated on the 14th November 1878.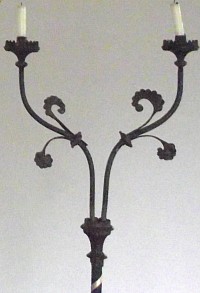 candleholder in Horsehouse Church
The Church of St Botolph's at Horsehouse is of ancient foundation, and during the time of Coverham Abbey the Abbot provided a brother to say Mass, when he was negligent in this provision a long list of inhabitants presented him with a petition. This was not an isolated incidence, and later petitions to the Bishop of Chester bemoaned that no one had been appointed to read the service there.This resulted in charitable bequests to augment the income of the clergy who served Horsehouse. John Constantine of Gammersgill left money, John Lobley left money payable out of his land, and William Swithenbank left money for four sermons a year to be preached.
The church at Horsehouse was rebuilt on at least two occasions. The Horsehouse Chapelwarden Accounts of 1800 - 1802, kept by Peter Yeoman, give wonderful details of the labour and material they needed to repair and rebuild St Botolph's. More work was required in the 1860s and the church was again repaired and parts rebuilt with a reconsecration service on Wednesday 16th May 1870.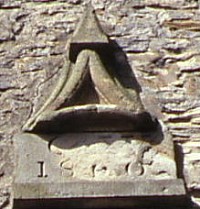 stone on a house next to Melmerby Chapel
The early Methodists took a strong hold in large Anglican parishes where people had to travel a long way to the parish church. Small chapels sprung up in villages and gained support. However there was some opposition. Before there was a chapel in West Scrafton the Methodists met in a hired room. At one meeting, whilst they were singing "Vain delusive world adieu" the floor gave way and they all fell into the cellar. It was found that someone had sawn through the wooden beams.

My family were some of the earliest Methodists in Coverdale, having brought their faith over from Nidderdale where they were on the earliest Methodist Class lists. The first Horsehouse Methodist Class register lists Ralph Lofthouse, Roger Lofthouse, Elizabeth Lofthouse, Robert Lofthouse, Dorothy Lofthouse, Thomas Lofthouse, John Lofthouse, Dorothy Lofthouse, Jane Yeoman, Mary Thomas, Edward Bell, Elizabeth Bell, Thomas Pickard, Elizabeth Pickard [name struck out, dead], Ruth Hammond, Agnes Thomas, Moses Rayner, Ralph Rider, Elizabeth Rider. On the reverse it says "Horsehouse Class, Behold how good and pleasant it is for brethren to dwell together in unity" and is dated 12 th March, but no year given. An Elizabeth Pickard died in 1816 aged 23 years of Hindlethwaite.
The second Horsehouse Methodist Class register is only a frament but is is dated 1829 "Be thou faithful unto death and I will give the Crown of Life" It names Ralph Lofthouse of Sowersett, Elizabeth Beckwith of Horsehouse, Roger Lofthouse of Horsehouse, Elizabeth Lofthouse of Horsehouse, Robert Lofthouse of Bradley, Nancy Lofthouse of Bradley, John Lofthouse of Hindlet Whaite [Hindlethwaite], Elizabeth Lofthouse of Hindlethwaite, Thomas Pickard of Hindlethwaite, William Hammond of Bradley, Dorothy Hammond of Bradley, William Spence of Gammersgill, Mary Wilson..... the rest is lost
The Methodist Class ticket was my great great grandmother's Elizabeth Gill.